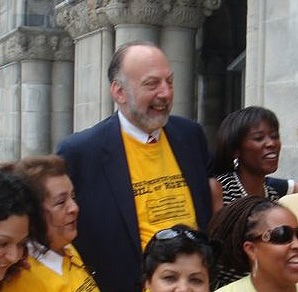 Richard D. Winsten is a New York State licensed attorney He is a graduate of SUNY Binghamton and the New York University School of Law. He  has been affiliated with the lobbying firm, State & Broadway since 2018.  During this time, he worked successfully for the enactment of the NYS Farm Workers Fair Practices Act culminating over a decade of work. . He also worked successfully for the expansion of union child care and entertainment union health insurance subsidy programs as a response to  Covid pandemic created workforce problems. In 2021 , he worked on the enactment of NYS and NYC Human Rights Law coverage of domestic workers.
Previously he was the founder and Co-Chair of the Government Relations Department of   Meyer, Suozzi, English & Klein (MSEK ), P.C.'s Government Relations practice. He was a member of the firm for over thirty years. He played a major role in the enactment of the groundbreaking NYS Domestic Workers Bill of Rights in 2010 and the first ever collectively bargained provision for NYC Home Care Workers in the 80's., and a right to sue cancer presumption provision for NYC Firefighters in the 90's.
Prior to joining MSEK., from 1984-1987, Mr. Winsten was the Director of Legislation and Research for the New York State AFL-CIO. In that capacity, he was the chief lobbyist for the two-million-member labor federation, responsible for legislative program development, bill drafting, and bill negotiations in 1985, he helped create the only state based safety and health training grant program and subsequently led the effort for the enactment of the only in this country occupation health clinic network. Previously, From 1977 -1984 he was  the Director and Counsel of the Albany Legislative Office of District Council 37, AFSCME, the American Federation of State, County, and Municipal Employees. During this time, Mr. Winsten he played a major role in the enactment of the New York State Public Employee OSHA (Occupational Safety and Health Administration) legislation which became law in June 1980. 
Mr. Winsten is a past Chairman and current Member of the Board of the New York State Public Utility Law Project, a legal services backup center for representation of low-income consumers of telephone, electric, gas and other utility services. He has served as a Member of the Board since 1989. He has been a member of the New York State Temporary Commission to Study Workers' Compensation Rates since 1991, having been appointed by the Governor upon recommendation of the Speaker of the Assembly. Among Mr. Winsten's other Gubernatorial appointments were his positions on the New York State Industrial Cooperation Council, the Temporary State Commission on Workers' Compensation and Disability Benefits, and the New York State Occupational Safety and Health Hazard Abatement Board. He currently is also a member of the Advisory Boards of the CUNY School of Labor and Urban Studies and the Mount Sinai Occupational Health Clinic. 
Awards
2007 Justice for Farm Workers Campaign Award
2008 ALIGN/Jobs With Justice  Movement Builder
2010 Freelancer Practical Revolutionary Award
2010 Triangle Fire Memorial Clara Lemlich Award
2012 New York Committee on Occupational Safety and Health Award
2013 Domestic Workers United Advocate of the Decade Award
2013 Healthy Workers, Healthy Work Award, NYS Occupational Health Clinic Network