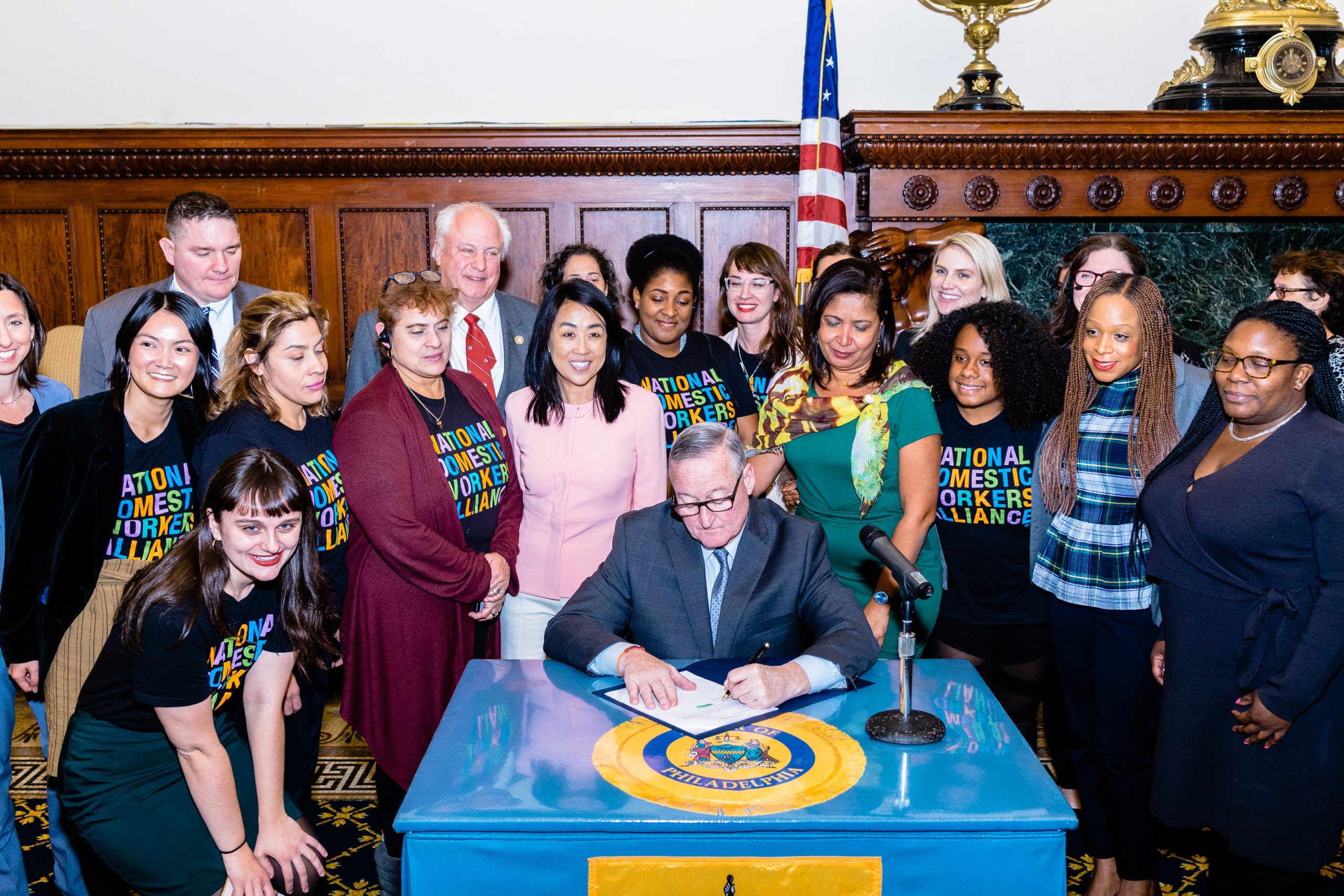 In the two years since the Philadelphia Domestic Workers Bill of Rights went into effect, our members have been hard at work educating and organizing other domestic workers to make sure the law they worked so hard to win is being enforced.
The Philadelphia Domestic Worker Bill of Rights guarantees several labor rights for the city's 16,000 household employees. It is considered one of the strongest laws in the nation that protects domestic workers and makes Philadelphia the largest U.S. city to offer robust labor protections to household employees.
Thanks to your support, employers of domestic workers must now:
Notify their employees of their rights;
Provide their employees with the protections and benefits defined in the law;
Provide a written contract that outlines the job duties, rate of pay, days off and other terms and conditions to domestic workers in their preferred language;
Protect workers from discrimination and labor trafficking;
Provide meal and rest breaks (at least 10 minutes of break time for every 4 hours worked (paid) and a 30-minute meal break after 5 hours of work);
Guarantee one day of rest (unpaid) for each week worked;
Provide two-weeks notice before termination and at least four-weeks for a live-in domestic worker (or wages for the 2 or 4 weeks if asked to immediately leave);
Respect privacy rights of domestic workers so they cannot be recorded or monitored in private dressing areas or in private communications (such as on a cell phone);
Refrain from engaging in unlawful discrimination or retaliation for domestic workers asserting their rights;
Document and retain records demonstrating compliance with the law.
We want to send our continued thanks to the incredible domestic workers, organizers and supporters across the state that worked hard to get us to this moment.
The Pennsylvania NDWA Chapter has been organizing domestic workers since 2018. In that time, we've won the Philadelphia Domestic Workers Bill of Rights and the Philadelphia City Hall Domestic Workers Standards and Implementation Task Force. The Task Force is the only worker-specific task force of its kind in city government.
We are profoundly thankful for all of you, and can't wait to see what we accomplish in the future.