The New Jersey Domestic Workers Bill of Rights is an important piece of legislation that will protect the rights and improve the working conditions of some 50,000 domestic workers in the state.
The legislation is at a critical point: will you take a moment today and email your elected officials and urge them to secure hearings for the New Jersey Domestic Workers Bill of Rights in the Senate Budget Committee and the Assembly Appropriation Committee BEFORE their June 30th recess?
Sending a letter will take less than two minutes, but will have a huge impact. Email your elected officials today!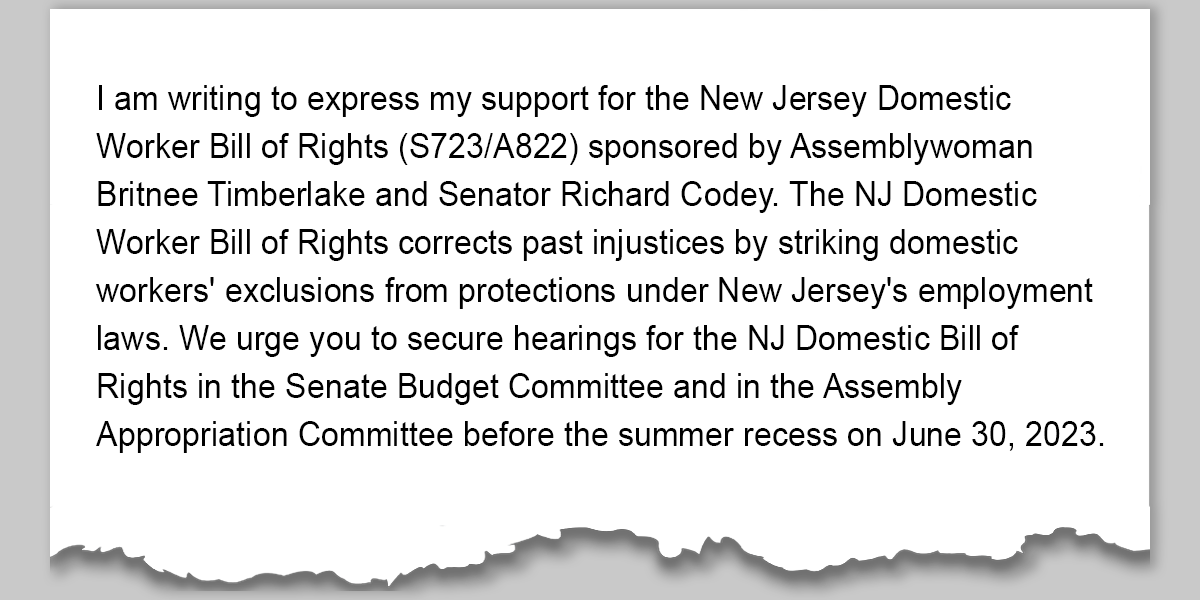 Domestic workers, including housecleaners, nannies, and caregivers, are often excluded from basic labor protections, such as minimum wage, overtime pay, and the right to organize.
These essential workers do the work that makes all other work possible. They are overwhelmingly women of color and immigrants who have struggled for generations and are still not able to access the same basic rights and protections as other workers.
Getting the New Jersey Domestic Workers Bill of Rights passed and signed into law is an important step towards recognizing the dignity and value of domestic work, and addressing the systemic injustices faced by this often-overlooked sector of the workforce.
Join us as we urge key representatives to protect and respect domestic workers by continuing to move this bill forward. Click through to email your elected officials today.