This month, we celebrate our five year anniversary of the Pennsylvania Chapter of the National Domestic Workers Alliance! Since August 2018, we have organized Philadelphia area nannies, housecleaners, and caregivers to win justice and dignity that we all deserve.
We're so proud of the work we've done in the last five years (check out our video and the highlights listed below), including securing the passage of the Philadelphia Domestic Workers Bill of Rights, But, ever since the bill was passed, some employers have violated the law innumerable times and even retaliated against workers who stand up for their rights.
This is why we've launched a new campaign to put an end to all employer retaliation against workers, ensure that all of our labor laws are enforced, and that the Philadelphia Office of Workplace Protections has the budget it needs. We kicked things off in June, in honor of International Domestic Workers Day, with a rally against retaliation in Rittenhouse Square, one of the wealthiest neighborhoods in the city – and the site of many domestic worker labor violations.
If you want to learn how you can support the campaign, or if you currently employ a domestic worker and want to learn more about how to comply with the Philadelphia Domestic Workers Bill of Rights, sign up here.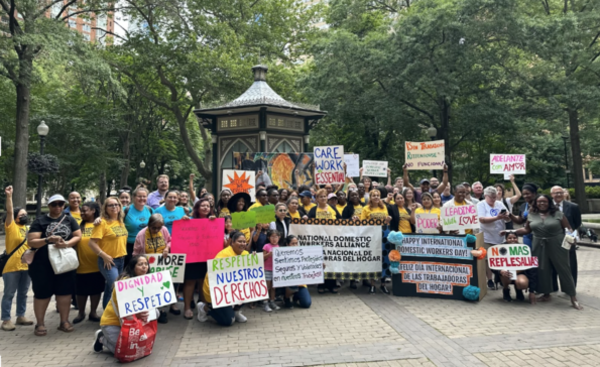 When we started five years ago, we had very few members. Now, we have hundreds of domestic worker members across the Philadelphia area and together we:
Won the Philadelphia Domestic Workers Bill of Rights, one of the best laws in the country to extend labor protections to our workforce
Won a new holiday in Philadelphia to honor Dorothy Bolden, a Black domestic worker and mother of our movement
Hired 16 domestic workers as paid worker leaders through our leadership development program, Organize, Lead, and Amplify (OLA)
Launched We Dream in Black, our program for Black domestic workers from across the diaspora
Won a Domestic Worker City Hall Task Force with workers, employers, the Department of Labor, City Councilmembers, and NDWA and Community Legal Services staff. You can learn more about the Task Force in our published report.
Conducted outreach to hundreds of domestic workers to teach them about their rights and bring them into our movement
Vaccinated over 500 domestic workers and their family members
Worked with allied organizations and the Philadelphia Department of Labor to win and distribute $1.2 million through the Mayoral Worker Relief Fund to workers who were excluded from COVID financial relief
Distributed over $50,000 of PPE to domestic workers
….and so much more
Thanks for a great five years…and here's to many more.