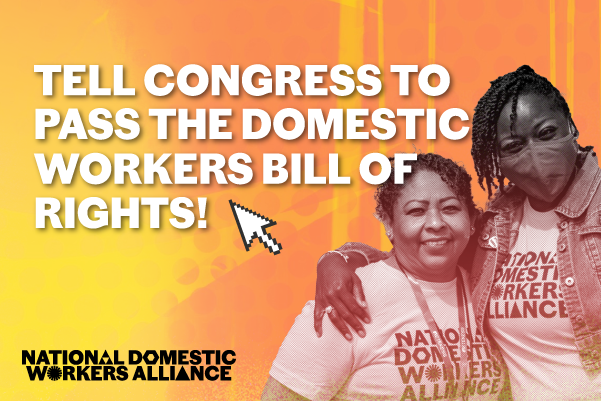 It's Hot Labor Summer! From screenwriters to UPS drivers to Starbucks baristas, workers are standing together to demand better pay and working conditions.
Labor movements have been a powerful force for workers to tap into their collective power for generations. But domestic workers – who are largely women of color and immigrants – face unique obstacles to organizing: working alone, in other people's homes, with pay and conditions set by multiple employers.
The National Domestic Worker Bill of Rights is our beacon of hope, aiming to level the playing field by providing the same federal rights and protections to domestic workers as other workers.
Take action today: send a letter to Congress in support of the National Domestic Worker Bill of Rights. Your letter has the power to make a difference and shape policies that will improve the lives of domestic workers.
Domestic workers play a crucial role in our society, providing essential care and support for families across the country. However, many nannies, housecleaners and home care workers face unfair treatment, exploitative working conditions, and inadequate legal protections.
By joining our Activist Squad and fighting for passage of the National Domestic Worker Bill of Rights, you can contribute to a fair and equitable future for domestic workers.
Our movement is strong, but we're fighting against forces that don't value the work of women of color or immigrants. We need as many voices as possible to join in and scream from the rooftops: domestic workers across this country deserve more!
Join us: urge lawmakers to recognize the value of domestic workers by ensuring they receive fair wages, protection from discrimination, safe working conditions, and other essential labor rights.
NDWA believes in upholding the dignity and respect of every profession, recognizing the livelihoods of individuals dedicating their talents and efforts to their work. That's why our domestic worker leaders and staff have been proudly supporting worker rights during this unprecedented time.
This Hot Labor Summer is a wake-up call to corporations and society at large, forcing public conversations on the need for long-term legislative changes to protect workers' rights.
Domestic workers have been central to the labor movement for generations – and this moment is no different.
This summer, it's important we continue to work towards a society where workers are valued, respected, and empowered.
Take action today and be a part of this critical movement.
Thanks for all that you do,
Advocacy Team
National Domestic Worker Bill of Rights