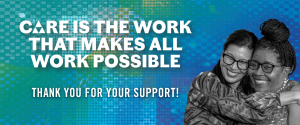 Wow. Today is the last day of November. Where has the year gone?
As we begin to wind down 2022 and reflect on our work, we at NDWA could not be more grateful for our domestic worker leaders and the commitment to justice and equity they bring to this work. I am also so grateful, as is our entire team, to supporters like you, who step up each and every time we ask.
Together, we have spent the year working at the local and national level to secure much-needed protections for domestic workers and caregivers. You sent letters urging Congress to increase access to care services to support almost 48 million unpaid family caregivers. You tweeted in support of the National Domestic Workers Bill of Rights. And you've answered the calls to action for campaigns in D.C., North Carolina, and beyond.
You came through again for us yesterday, on Giving Tuesday, and helped us reach our goal. We know that, in these uncertain economic times, making a donation can be a sacrifice. We do not take your generosity for granted.
Thank you for your partnership in this important work, and your ongoing commitment to this movement. This community we've built is powerful, and our message continues to spread far and wide.
The year isn't quite over yet, and you'll hear from us again soon. Just know that today, and every day, you are appreciated.
Thank you, truly, for everything that you do.
Jenn Stowe, Executive Director
National Domestic Workers Alliance
P.S. Today is also Indigenous Women's Equal Pay Day, which marks the day that Native women need to work until they make what white men made in the previous year. Take a moment to raise awareness on this topic and the numerous struggles that Indigenous women face by sharing this graphic on Instagram or Facebook and Twitter.