Do you know that what we did at the White House in April – hundreds of domestic workers assembling – is illegal in other countries? Just compare these two pictures, one of domestic workers in Beirut (this photo was taken in 2017, although the issues remain) and the other of domestic workers protesting pay and working conditions for childcare workers in North Carolina this year.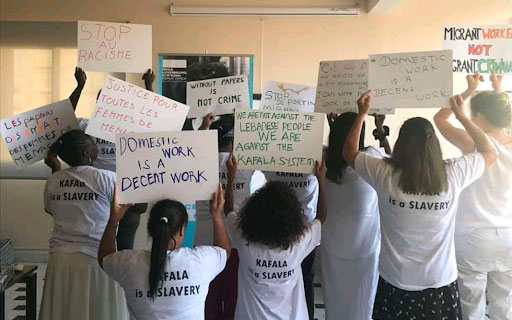 Domestic workers in Beirut in 2017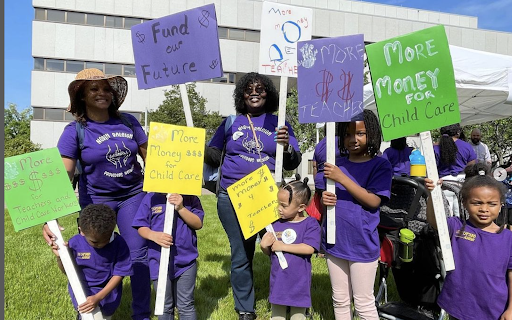 Childcare workers assemble in North Carolina in 2023
In March, I spoke at the American University of Beirut as part of a dialogue on care in the Arab States with the Global Alliance of Care, and after my speech a Filipino woman stood up. She said she was a domestic worker in Beirut, and she had never come into the classroom before, never sat among academics and students, and she couldn't believe she was seeing a domestic worker from the US sitting there — in that space. During my speech I had told the audience about a panel I was on at the United Nations Commission on the State of Women in March, where I advocated for centering the conversation about care around domestic worker experiences, because domestic workers are eager to lead conversations about the future of care. That a domestic worker was being called on in these spaces – the UN, academia – to share their expertise made a profound impact on this lady, and her response really moved me.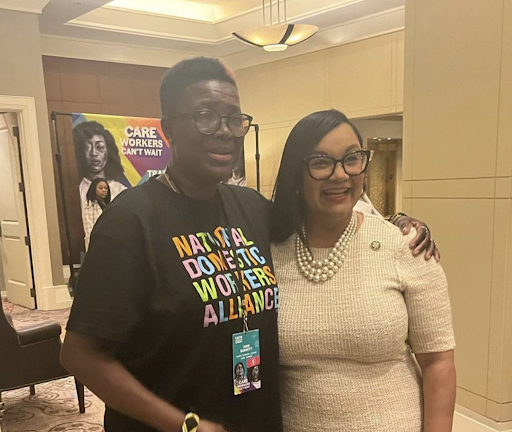 We are so privileged in our movement in the US. It's easy to forget that when we have to fight for such basic rights like the right to a lunch break, or paid sick days, but I'm grateful to have been reminded of it this year. It made me that much more grateful when I attended the Care Summit in DC immediately after my trip to Lebanon. Imagine what the lady who stood up after my speech would say if she saw this picture of me meeting Congresswoman Nikema Williams!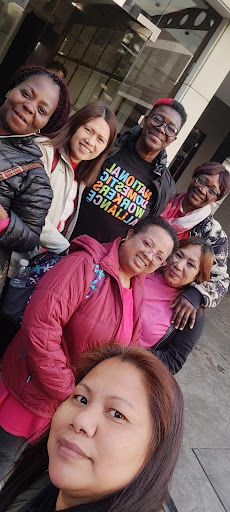 Ultimately, my trip committed me even more to the fight to advance the rights for domestic workers, not just nationally, but globally. We are part of a global movement for women and the work we do connects us to one another. That I can speak on a United Nations panel can inspire a domestic worker in Lebanon who cannot assemble in public, and our presence at the White House, and greeting elected officials can inspire domestic workers all over the world, proving that we are winning.
But just because these workers don't have the right to assemble, don't feel sorry for them! They are brilliant and they are POWERFUL women. After my speech at the American University of Beirut, I spent four days with domestic workers from the Philippines, Cameroon, Madagascar, Nepal and Nigeria and I can tell you these women are not messing around! As much as I might have inspired them, they inspired me!
This International Domestic Workers Day, think of the domestic workers around the world who are fighting, because when we win, we're paving a new future for care in the US, and we're blazing a path for the global domestic worker movement!